Jobs in the garden and on your plot this June
The longest day of the year falls on June 20th, bringing warmer temperatures and extra sunlight. Flowers are blossoming, there's lots to harvest in the vegetable garden.
Harden off and move hanging baskets and containers growing on in the greenhouse into their final position. If your hanging basket plants become leggy, trim off the excess to encourage bushy new growth.
Continue to thin out drifts of hardy annual plants if they're overcrowded.
Lift and divide clumps of snowdrops and bluebells once the leaves start to yellow.
Start to pick sweet peas as soon as they flower to encourage more blooms.
Dead-head your roses if they're repeat-flowering types. Otherwise, leave the seed heads on for decoration.
Dead-head and cut back oriental poppies after flowering. Cutting them close to ground level will stimulate new foliage.
Stake tall perennial plants to prevent wind damage.
As new shoots grow, use soft ties to train climbing plants such as honeysuckle and clematis to their supports.
Prune out overcrowded or dead stems of evergreen clematis once they have finished flowering, to maintain a good shape.
Towards the end of June, if your hardy geraniums have finished flowering, cut them back to encourage new foliage and flowers.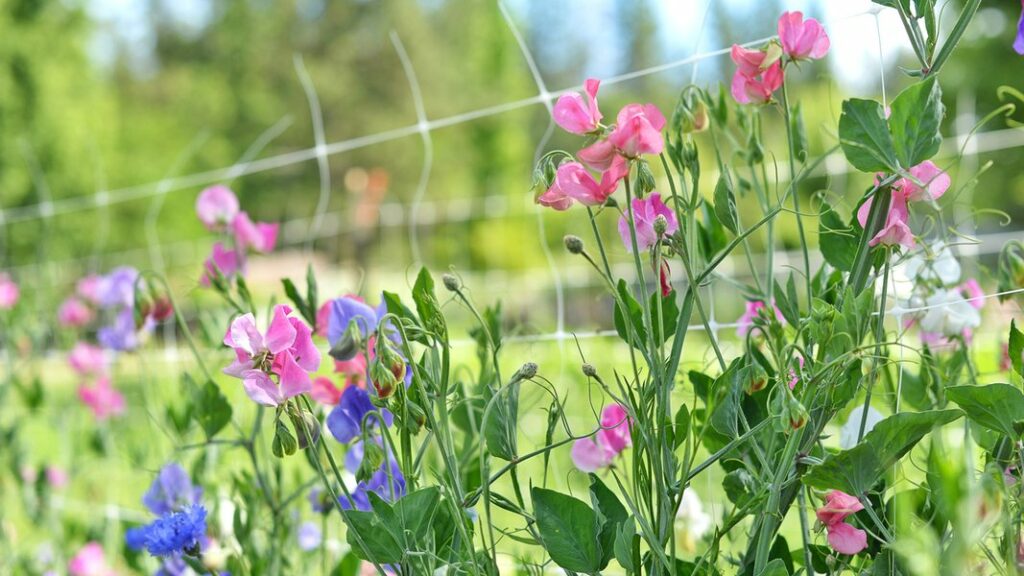 Keep the compost of newly planted container potatoes moist, but take care not to overwater, as this compacts the soil, squeezing out the oxygen, and prevents the developing tubers from swelling.
Pinch out any side shoots from your tomato plants. You can pot these up to create new tomato plants. Start to feed once the first truss is setting fruit. For more information about growing your own delicious tomatoes.

Harvest salad crops, and resow every 2 weeks for a constant supply of tasty leaves.

Continue to earth up potato plants as they grow

Harvest first early potatoes — these are normally ready about 10 weeks after planting.
Keep an eye on your onion and garlic. When the leaves start to yellow and die back, they're ready to harvest.
Protect crops from carrot fly by covering with horticultural fleece.
 
Start to prune your plum or cherry trees now.

Although fruit trees will naturally shed some fruit (called the 'June drop'), aim to thin out congested branches further for bigger and better fruits.
Protect any developing fruits from birds and squirrels by placing netting around your plants.
If you have plants fruiting in containers, remember to give them a high potash liquid feed to keep them healthy and productive.
Top-dress patio dwarf fruit trees with fresh compost and a slow-release fertiliser.
Peg down runners on your strawberry plants to create more plants for next year. If you don't need more plants simply remove the strawberry runners completely.

Always water potted blueberry plants with rainwater, as the lime contained in tap water reduces the acidity of the soil over time.